Contact lenses: how to put them, keep them.?
3 min read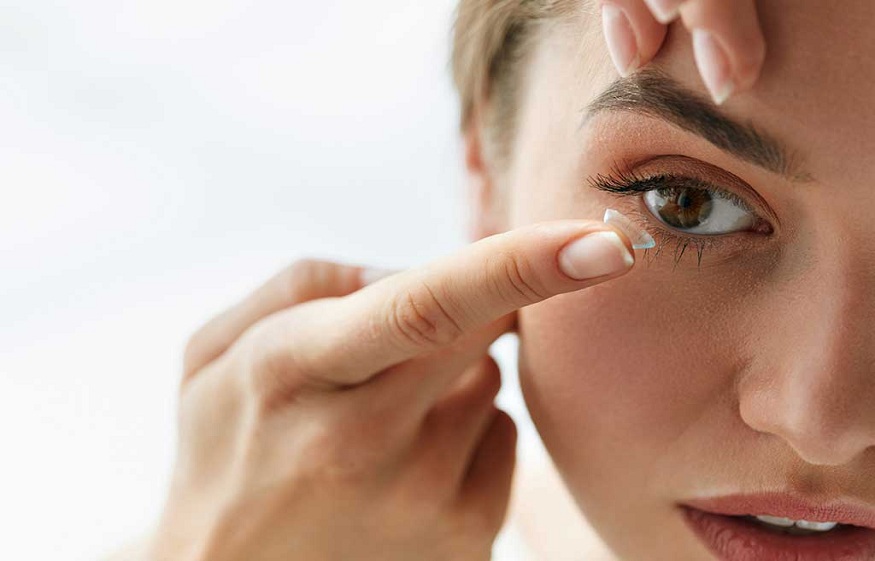 Before benefiting from it, an eye examination is necessary. It aims to monitor vision, the shape of the eye, the quantity and quality of tears . It allows to determine the absence of contraindication and if the eyes can support the lenses. This consultation is covered by health insurance.
Adaptation of contact lenses
The adaptation of contact lenses includes several consultations during which the doctor will determine which lenses will be best suited to your eyes and check your vision after their fitting. The number of sessions varies according to the complexity of the adaptation.
Arrangement
" When the adaptation is complete, the doctor issues a prescription for one year allowing the purchase of contact lenses from an optician, explains Dr. Monique Quillard, general practitioner. Above all, follow the instructions given by your ophthalmologist and buy the lenses to a professional."
How to put contact lenses?
With a little practice, it's a very simple gesture. Before placing them on your eyes, wash your hands. Then place the lens on your index finger and, with your other hand, hold your eyelid wide open and insert the lens. Blink. It's over, the lens is in place.
How to remove lenses?
Put the lens in its case that you will have previously filled with cleaning product.
How to store your contact lenses?
When you are not wearing them, your lenses should be kept in their case. Remove your lens, place it in the palms of your hands and drop a few drops of disinfectant solution. Massage it gently to remove all impurities. Then place it in its case, previously filled with a recommended cleaning solution or, failing that, with physiological saline. Do the same for the other lens and let them soak overnight.
Contact lens care
To maintain them at best and avoid eye problems:
When to change your contact lenses?
The majority of contact lenses must be renewed every three months at the risk that they become dirty. Some special precautions:
Never replace a damaged lens,
Check that the eye drops used are compatible with the wearing of contact lenses.
An annual examination with the ophthalmologist is recommended. Faced with potential ophthalmological complications, contact lens wearers must be extra vigilant and have their sight checked regularly by an ophthalmologist. Also, if you are experiencing any of the following symptoms , remove your lenses:
red eye,
What are the best contact lenses for when you have dry eyes?
Even if you have a tear deficit, it is possible to wear contact lenses. The latest generation silicone-hydrogel ones absorb less water, so your eye will be better hydrated. If this is not enough, adding lubricating eye drops will allow you to hydrate your eye and avoid the inconvenience of dry eyes . " Be careful, eye drops should only be used after consulting your ophthalmologist", specifies Dr. Quillard.
Color contact lenses?
Want to change your look ? There are colored lenses to change the shade of your iris. Everyone can wear them because they exist with or without correction . In the latter case, the prescription of a prescription is not obligatory, although the visit of an ophthalmologist is strongly advised to ensure that you have enough tears to support them. Ideally, to maintain a natural look, it is recommended not to stray too far from your original color.
contact lens prices
The prices vary according to the type of lens and according to the optician. Count approximately:
For rigid lenses: between 250 and 400 € for uni-focals, between 350 and 500 € for progressives, per year.
For soft lenses: between 200 and 250 € for simple lenses and another 340 and 450 € for progressives, per year.
To be added to the budget: the cost of the adaptation, between 100 and 200 € approximately, as well as that of the cleaning products, between 50 and 100 € per year.
The price of the lenses is free, each optician decides, the same for cleaning products .
Repayment
The health insurance fund covers the first consultation corresponding to the essential ophthalmic examination (vision check, absence of contraindication, eye shape, presence of tears, etc.) before the stage of 'adaptation. Adaptation, lenses and cleaning products are not covered by the health insurance fund except in certain medical situations.